Amiga Forever and C64 Forever 9 Released
March 10, 2021 - Cloanto released today version 9 of Amiga Forever and C64 Forever, the official Commodore/Amiga preservation, emulation and support suites for Windows.
The new editions are the result of more than two years of development since the previous major version, which also saw the parallel release of numerous free updates to the previous version, and the development of Amiga Explorer 8 and Amiga Explorer 9 (now included in Amiga Forever 9 Plus Edition and Premium Edition).
Version 9 celebrates beautiful new visual features like Arcade mode, Tile mode, light vs. dark options, and a first set of more colorful skin variants. Under the hood, hardware-accelerated technologies like Direct2D are used to provide a snappy experience. Powerful new column and tile field selection and sort options provide unprecedented control within the player interface, while an enhanced thumbnail provider and a new property handler enable seamless content access via File Explorer and Windows Search.
New automation and title authoring features make it possible to automatically run a script or application on startup, e.g. to quickly invoke different features or games from a shared Amiga setup. This is envisioned to be only the beginning of new automation capabilities which are planned to be released over the next months.
Additional Amiga improvements include RDB disk image enhancements, while 8-bit features include new SID audio, drive and media options, and support for the MAX Machine and the C64 Magic Voice cartridge.
On the input front, shared Amiga and 8-bit improvements include the ability to use the player entirely with a game controller, and enhanced virtual buttons that can now simulate guest joystick events (e.g. autofire) in addition to keyboard events.
Hundreds of smaller new features and refinements also made it into these new versions. Windows too went through several new releases since the previous major release of Amiga Forever and C64 Forever, and the new code base provides better support for new features introduced in Windows 10 versions 1909, 2004 and 20H2.
Amiga Forever 9 is available now in three editions:
Value Edition (downloadable installer)
Plus Edition (downloadable installer with option to build DVD ISO image)
Premium Edition (downloadable Plus Edition, plus boxed software and additional videos on 3 DVDs)
C64 Forever 9 is available now in three editions:
Both packages recognize and work with each other, with options to merge the different platforms into the same interface. Prices start from $9.95 (Value Edition, or special upgrade offers).
Visual Tours
Here are some suggestions to highlight specific version 9 features for YouTubers and other more visual friends:
New Arcade and Tile modes (via View menu) - Be sure to try out fullscreen Arcade mode (via the maximize button on the title bar), and to use it with a game controller.
Light vs. Dark Mode (via Tools/Options/Skin).
Virtual Keyboard - Open an Amiga emulation session like Workbench 3.X (in the Systems folder) and then use the keyboard menu at the bottom left of the playback window to open the Virtual Keyboard. Inside the emulation, open the Input Prefs and change the keyboard to a different language (e.g. German). Did you notice how the virtual keyboard on the Windows side also updated its layout? And still, it all keeps working with your unchanged physical PC keyboard, no matter what layout that one has. Then on closing the session you can choose whether to commit the keyboard layout change to the title configuration, or not.
Virtual Mouse - Looking for something a bit more "retro"? Start an 8-bit title (e.g. a PET 2001, or 8032, or C64) from the Systems folder of C64 Forever, and use the mouse to move the text cursor around. If you ever spent a lot of time programming or writing on those systems, isn't this something you've been wanting to do for more than 40 years?
Fullscreen Controls - Start or switch any Amiga or 8-bit emulation session to fullscreen (use the button in the top row of the playback window), then hold down the Escape key for one second to open the new fullscreen controls. These can be selected with the mouse, with the keyboard, or with the same controllers you are using to play. At last, you can swap disks, pause, resume, save, etc., without needing to leave your favorite screen mode and controls.
Type Clipboard Text - Hello World? Here is something simple, but fun to watch if you would like to paste a message or a few lines of code: use the keyboard menu at the bottom left of the playback window to paste the content of the Windows text clipboard. Works with any Amiga or 8-bit system (in Japanese too...)
Graphics
Permission is granted to use the following graphics in the original context, with attribution.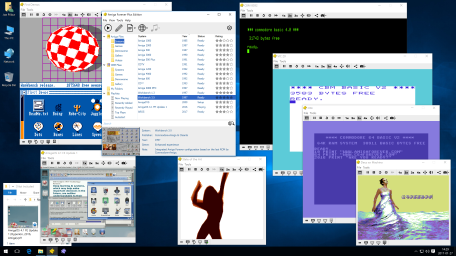 High-DPI support and platform merge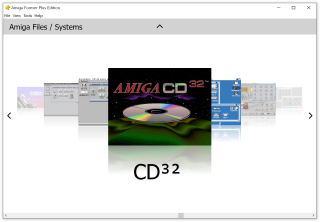 Arcade mode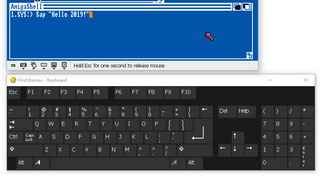 Virtual keyboard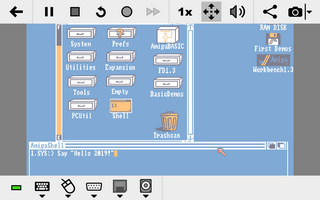 Fullscreen controls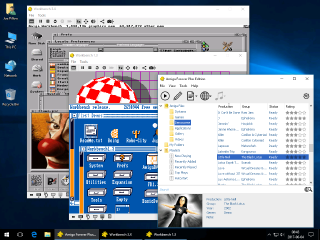 Workbench 1.3 and 3.X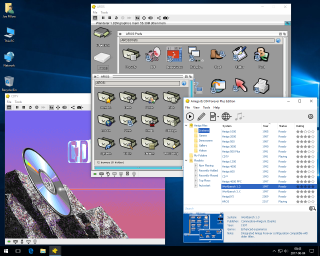 CDTV and AROS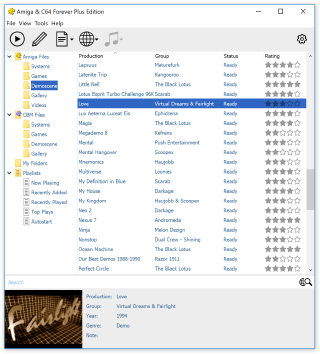 Player detail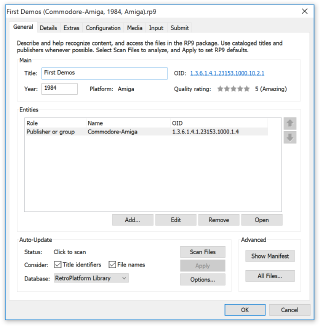 RP9 title editor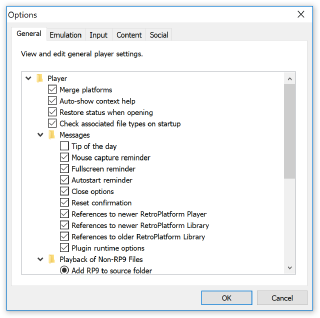 Player options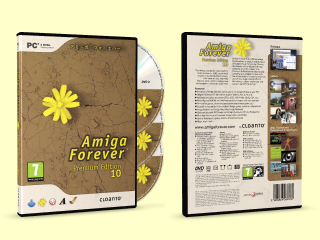 Premium Edition box shots
More Amiga Forever screenshots...
More C64 Forever screenshots...
Links
New Features
https://www.amigaforever.com/whatsnew/
Quick Instructions for Upgraders
https://www.amigaforever.com/kb/15-121
Amiga Forever and C64 Forever 9 "R2" Update
https://www.amigaforever.com/news-events/20211126-af-9-r2/
This Page
https://www.amigaforever.com/news-events/af-9/
Amiga Forever Homepage
https://www.amigaforever.com
C64 Forever Homepage
https://www.c64forever.com