Cloanto Releases Amiga Forever 6.0
April 16, 2004 - Cloanto released today version 6.0 of Amiga Forever, the award-winning Amiga emulation, operating system, connectivity and support suite for Windows and other platforms.
Amiga Forever 6.0 is a completely restructured package which took more than two years to complete. New features include a more than doubled set of preinstalled applications (with web browser and media player), new ROM and operating system files, Cloanto's KX Light GNU/Linux distribution (to boot from the Amiga Forever CD, if so desired), and numerous items of historical interest (e.g. new videos in VHS and S-VHS quality, like the 1985 Launch of Amiga event).
"Amiga Forever 6 is such a good product that we at Amiga, and many Amigans in general, use it as a 'real' Amiga on x86," said Fleecy Moss of Amiga Inc. "This version is so packed with extras, apps and history that it is like the 20 years of Amiga all in one package."
Amiga Forever is available in a downloadable Online Edition ($29.95 + taxes, € 29.95 including VAT) and in a Plus Edition ($59.95 + taxes, € 59.95 including VAT) which includes premium content of historical interest (all Amiga operating system versions, gallery, videos, Games) and KX Light. All versions of Amiga Forever include Workbench 1.3 and 3.X files and make it possible to run "Classic" Amiga software (including hundreds of legally downloadable games) on any PC, with special support for the Windows platform, but also compatible with macOS and GNU/Linux systems.
"Classic" Amiga software compatibility is achieved by means of an Amiga hardware emulation layer (configurable to emulate different Amiga models and chip sets) and different versions of the original Amiga operating system (not an emulation). The Amiga environment in turn relies on host operating system functionality to transparently enable modern features such as up-to-date hardware drivers, virtual memory, WiFi networking, DirectX technology, advanced power management, Serial ATA storage, etc.
"Like the Amiga itself in its days, Amiga Forever now appeals to a diverse audience," said Cloanto president Mike Battilana. "From the would-be Amiga owner who never had the opportunity to own this computer in the 1980s, to the professional who spent thousands of dollars in Amiga hardware and peripherals and who now can download a more powerful system for a small fraction of that cost, to the 'retro' enthusiast who maybe owns a pinball machine, rides a Vespa and stands hours in line for the latest Star Wars prequel, to the web designer or security conscious surfer who likes to use an Amiga browser both for some completely different HTML testing, and for 'safe surfing'."
About Cloanto
Amiga Forever is the official Amiga preservation, emulation and support package brought to you by Cloanto, Commodore/Amiga developers since the 1980s. While we now focus on business solutions for a living, this project allows us to keep the dreams of our youth alive, manifesting our passion for excellence and commitment to long-term support, and sharing the culture and history we touched firsthand with new generations.
Trademarks
Cloanto, Amiga Forever, the yellow daisy logo and Workbench are either registered trademarks or trademarks of Cloanto Corporation in the United States and/or other countries. Other registered trademarks and trademarks mentioned in this text are the property of their respective owners.
Links
Amiga Forever Home Page: https://www.amigaforever.com
Amiga Forever RSS Feed: https://www.amigaforever.com/rss.xml
This Page: https://www.amigaforever.com/news-events/20040416-af-6/
Press Contact and Sample Copies
Contact: Takeo Sato
Company: Cloanto Corporation
Phone: +1-702-920-8480
Fax: +1-702-920-8481
Email:
Graphics
Permission is granted to use the following unmodified graphics in the original context (click on images for larger versions with footnotes and still images).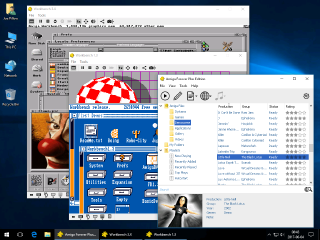 Amiga Forever on Windows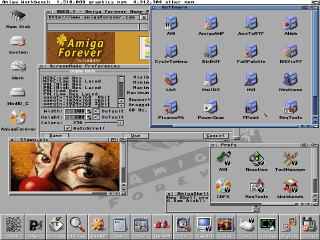 Workbench 3.X environment detail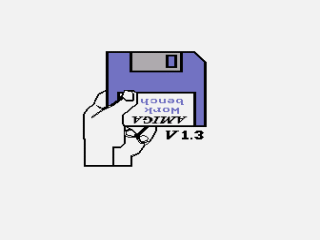 Workbench 1.3 environment detail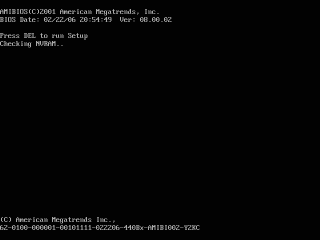 KX Light boot sequence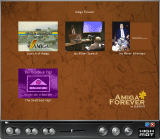 HighMAT Menu