Personal Paint
Description
Personal Paint is a powerful and intuitive paint, image processing, animation and 24-bit printing package. Employ stunning effects like emboss, water-colors, transparencies and stereograms (as in "Magic Eye"), while virtual memory and blitter emulation free precious Chip RAM by using other storage resources! Plus: support of RTG graphics cards, different file formats (IFF, GIF, PNG, PCX, JPEG, BMP, TIM, GraphiCraft, Photo CD, C source code, DataTypes, etc.), nine brushes, two independent working environments, multi-level Undo/Redo, animation storyboard, Bézier curves, autoscroll painting, internet publishing features (GIF animations, map editor, professional color reduction, transparency and progressive display), superior text editor, color fonts, PostScript output, screen and window grabber, 181 ARexx commands...
Related Links
New Features of Version 7.0
This version has more than 100 new features, including:
New and improved file formats, including Photo CD, GIF/Anim-GIF, BMP (Windows and OS/2), JPEG (not a DataType any more), 24-bit DataTypes and PBM
Professional internet features like GIF animations, a map editor, and everything needed to achieve maximum image quality in a compact size
Enhanced user interface (pop-up gadgets, different sizes of user interface fonts, NewIcons thumbnails, etc.)
181 ARexx commands, with scripts directly accessible from the toolbar
New "plug-in" library system makes it possible to add input/output formats (for files, scanners, screens, etc.) and to replace critical Amiga blitter and CPU code with a combination of "virtual blitter" and other logic fully exploiting the different configurations (68040, Phase 5 PowerPC, etc.)
Automatically create directory thumbnails for entire directories
Advanced vector text functions (rotate, antialias, paths, animate, etc.)
CD Edition includes: developer documentation, reorganized manuals (no addenda - all in the right place), tutorial animations, extended artwork.
New Features of Version 7.1
This new version, distributed on CD-ROM and as part of Amiga Forever, not only contains the first Amiga PowerPC code ever shipped (excluding developer tools), but also adds dozens of new features, including:
Finely tuned 68000, 68020, 68030 and 68040 editions of Personal Paint 7.1
New Rexx scripts, including text animation and animation paths
Improved blitter emulation and support of third-party graphics.library enhancements to store bitmaps in Fast RAM instead of Chip RAM
Improved support for environments like Siamese RTG, UAE, PowerPC and popular Amiga utilities
Loads TIM graphics directly from Sony PlayStation CDs, with extended TIM saving options for developers
New user interface languages (now totaling 16 languages)
Improved and extended manuals (in English, German and Italian)
Cloanto internet graphics DataTypes (GIF, JPEG, PNG and XBM)
GIF utilities by third parties
Special bonus: Cloanto ColorType 3.1 software
New Features of Version 7.2
New features of Personal Paint 7.2, which continues to be distributed with Amiga Forever, include:
Source code updated to create dual native 68K and PowerPC (AmigaOS 4) builds
Reduced blitting libraries to two: personal_agnus_blit.library (for slower Classic Amiga systems) and personal_cpu_blit.library (new default, replaces other CPU-specific libraries, including all personal_680x0_blit.library instances and personal_ppc_blit.library)
Support for longer file names (up to 107 characters)
True-color clipboard support (required for AmigaOS 4)
Various bug fixes
Discontinued features: audio feedback
Future Versions
On November 27, 2014, Cloanto and A-EON Technology announced that future Amiga versions of Personal Paint (including possible MorphOS and AROS ports) will be developed by A-EON. Personal Paint 7.2 remains included in Amiga Forever, and Cloanto may continue to develop future non-Amiga versions.
Floppy Disk vs. CD Edition
Unlike version 7.0, which was the last version to also be available on floppy disk, Personal Paint 7.1 was only available on CD (a full-size CD-ROM, not an 8 cm CD like the 7.0 "Limited Edition", which became a CD collector's item). In 1997 the standalone version was discontinued, and Personal Paint was merged into the Amiga Forever distribution.
Notes
A demonstration version of the software, as well as updates and other support files are available for free download. This site also contains a Frequently Asked Questions section and other Documents about Personal Paint, plus a special presentation on Internet Graphics. The Distributors section used to explain where you can get Personal Paint, which is now included in Amiga Forever.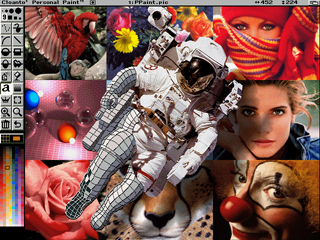 PlayStation is a registered trademark of Sony Computer Entertainment Inc.