The Personal Paint 7.0 "Limited Edition" CD-ROM
(Cover Picture)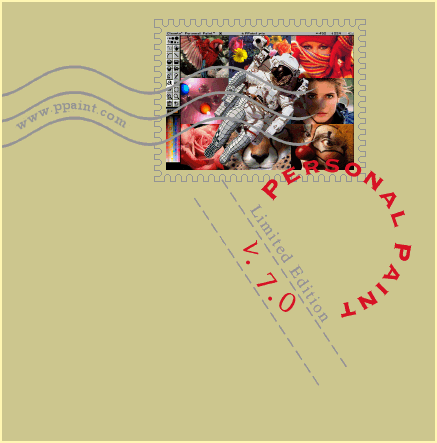 The image shows the cover of the Limited Edition CD-ROM ("CD single").
Yes, a "Mini-CD"!
We hope that you will appreciate the elegant packaging concept of the Personal Paint 7.0 "Limited Edition" CD-ROM, created especially for the launch of Personal Paint 7. The amount of software and artwork (slightly less than 60 Mbytes) allowed us to publish this edition in an original "Mini-CD" format. Not only do we particularly enjoy the design of this edition, but we like to consider that the manufacturing of these CDs consumed about 1/10th of the plastic normally required for a full-size CD with jewel box, additionally saving several hundred tons of water and other natural resources, chemicals, waste and energy. No, our manufacturing costs were not lower than if we had chosen a full-size CD, because these CD-ROMs are currently not subject to a lot of competition. However, we hope that other publishers will soon follow our example, and prefer the smaller format whenever possible.
Almost all Amiga and non-Amiga CD-ROM drives support the 8 cm disc format ("CD single") without requiring adapters. On these drives, the Personal Paint mini-CD can be placed directly into the lower groove at the center of the disc tray. On some older models of CD-ROM drives, in particular those requiring a caddy, as well as some multi-CD players, the mini-CD can only be used with a special adapter ring. These inexpensive plastic rings can be purchased in music stores, or from Cloanto (at no cost to users providing a Cloanto mini-CD serial number and CD-ROM drive model), through its distributors and dealers. Please note that an adapter ring is not useful when not expressly required. In particular, the unnecessary use of an adapter ring may confuse drives which employ an optical sensor to determine the size of the CD-ROM.