Banners, Buttons and Boxes
This is a partial collection of banners designed to promote information available on Cloanto's Amiga Forever website.

If you have any comments, or if you would like to use any of these banners, please contact us on a case by case basis. In general we are always happy if you use these banners, and will promptly provide permission to use them. If using the banners, please retain the original image file, "Alt text" and hyperlink as shown on this page. In order to maintain a consistent and familiar action in all implementations, please do not use these banners without the respective hyperlink. Please do not add additional borders around the banner (set "Border Thickness" to 0), and provide for sufficient spacing around the banner (do not use multiple banners attached to each other). If you need a banner having a different size, we can usually prepare a custom version for you, preferably in one of the standard sizes set by the Interactive Advertising Bureau.

A selection of Cloanto logo graphics is available on this page.
---
Buttons and Box Shots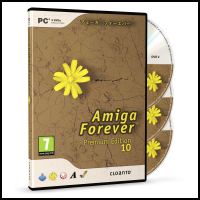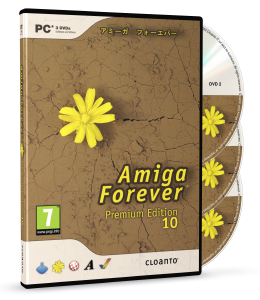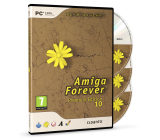 ---
"Testimonials" and "Generation Amiga" - 2010 Version


---
"Daisy Blossom Time"


---
"Testimonials"

---
"20 Years of History"




(black vs. brown top bar version)
---
"Mission to Mars"

---
"6 Reasons..."



---
"Generation Amiga"




---
"Amiga Was Never about a Box"

---
"Get a New Amiga"

---
"One World"

---
"Amiga Fever"

---
All artwork is Copyright © Cloanto Corporation. Cloanto, Amiga Forever, the yellow daisy logo and Workbench are either registered trademarks or trademarks of Cloanto Corporation in the United States and/or other countries. More Info.